Masculinity in the Workplace Conference 2020
19th November 2020 @ 10:00 am

-

4:30 pm

£30 – £120
About this Event
Welcome to the Masculinity in the Workplace conference 2020 'Virtual Edition' which will be taking place on the 19th November in conjunction with International Men's Day.
" Masculinity in the workplace consistently has more white men attending than any other diversity/inclusion event. Bravo. Now use it to drive change."
After the success of the last two events, we have taken up the challenge to truly drive change at a leadership level. For us, leadership is not about the corner office. It's about doing the right thing. It's about role modelling change and attracting others to follow suit. We need more courageous leadership right now. From everyone.
Put simply, our current leaders don't always have the insight or skills to lead diverse and inclusive teams. The skillset at the top needs to change. Come along and learn these skills, and be inspired by those showing leadership in 2020.
Join us for a day of panels, keynote speakers and workshops where we will explore:
What we can learn from covid19 about modern leadership
How people cope and thrive when their version of masculinity is at odds with the dominant version of masculinity
Why we still see vulnerability as a weakness when it is fundamental to inclusive leadership
How we can create more empathetic leaders
How we can build our own cultural intelligence to ensure that workplaces are inclusive
How traditional constructs around masculinity getting in the way of us being anti-racist
How we can break down the barriers that make it hard for men to get support
SPEAKERS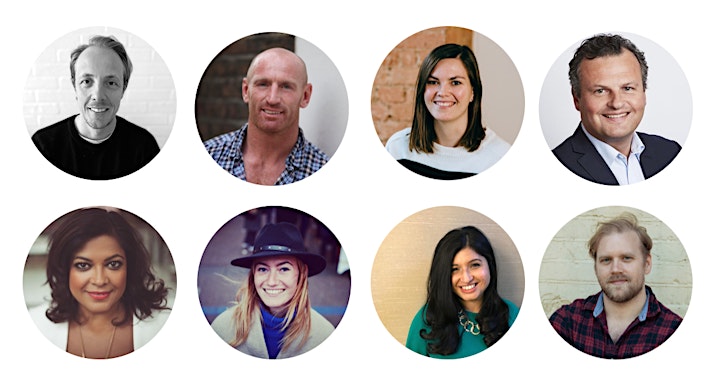 We have a fantastic lineup of speakers including:
More speakers to be announced soon.
AGENDA
10:15 Introduction and welcome – Daniele Fiandaca & Roxanne Hobbs
10:30 Keynote: Gareth Thomas will tell us his story about being the first high profile sportsman in the world to come out as gay whilst still playing.
11:00 Break
11:15 Research findings from this year's Masculinity in the Workplace survey presented by Nora Bank and Grace Tulip. With thanks to Opinium
11:30 A fireside chat hosted by Roxanne Hobbs with Robyn Wilder and Stuart Heritage discussing gender, parenting and how we can prevent ourselves from reverting to stereotypes in times of crisis
12:15 Lunch
13:15 Interactive Workshops covering; Masculinity, Leadership, Empathy, Vulnerability, Mental Health and Unconscious Bias. More details below.
14:45 Break
15:00 Keynote: Speaker to be announced soon!
15:30 A panel hosted by Nadya Powell discussing how to be an inclusive leader in a pandemic. Our panelists are: Christian Thor Larsen, Leendert Den Hollander & Nishma Robb.
16:15 Closing comments
16:30 End
WORKSHOPS
Our highly experienced facilitators: